HEATING | AIR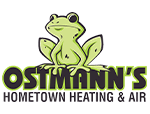 Keep your property comfortable year round with the help of Ostmann's Hometown Heating & Air. We are locally owned/operated HVAC contractor. We can handle all your heating and cooling needs, whether you need to repair your air conditioning unit or install a whole new heating system. With our help, you will be able to maintain a comfortable temperature throughout your home, second home or vacation rental.
Complete Heating and Cooling Services
From new system installations to regular maintenance and repairs, we take care of everything your HVAC system needs. Our technicians have the experience and tools to get the job done promptly while providing written estimates of the work they are performing. No matter what heating or cooling job you need to be done, trust us to take care of it. We offers punctual service appointments to take care of your HVAC solutions quickly.
---
RESIDENTIAL| COMMERCIAL
Whether you need a routine maintenance check or an emergency repair on a heating or cooling unit, we are available to handle all of your all of your heating, cooling and ventilation needs. We continually strive to exceed expectations by ensuring that each client receives the very best service. We will work with you to find HVAC solutions that fit your furnace and air conditioner needs. We will provide you with a full consultation to explain all of your available options so that you can choose the system that's right for your home or business. We serve both residential and commercial clients and offer a variety of money-saving solutions. We combine our use of the highest quality parts and equipment, and our dedication to delivering exceptional service to provide you with top quality service.
• HEATING • COOLING • THERMAL IMAGING • GEOTHERMAL •
---
HVAC
KES is Park City's premier HEATING, VENT AND AIR CONDITIONING contractor, providing a team of licensed professionals who have served the Park City and Summit/Wasatch County areas for almost 30 years. Our experienced technicians offer the outstanding service for all types of HVAC systems, from energy-efficient designs to maintenance and repair. Whether you're looking for an energy-efficient, climate-control system that keeps your home fresh all year long, or need help maintaining an existing system, count on KES to get the job done right.

Residential and Commercial Specialists
• Gas & Forced Air Furnaces • Radiant Heat • Air Conditioning & Coolers
• Solar Solutions • Geothermal
435.615.1442 | StrandHVAC.com | Email Direct
---