TREE REMOVAL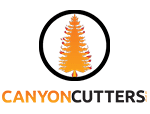 Dead standing trees on your property, or trees that are lacking leaf/needle coverage and look like they are suffering from disease? Can yon Cutters offers a full clean up surface that tackles your hazordous fuel problem and greatly reduces the risk for spreading fire! Canyon Cutters specializes in tree removal and pruning, wood chipping, debris removal, and storm cleanup services in Park City, Utah. We put a primary focus on homes and property located on and near the ski resorts of Park City. We have the ability to handle the difficult terrain, while maintaining and improving on the natural beauty of the land.

Wood Chipping • Debris Removal • Tree Removal • Storm Cleanup • Tree Pruning
Stump Grinding • Ski/Ski out Access • Erosion / Drainage Construction Solutions
---
LANDSCAPE
Established in 2018, we have become one of the most reputable and rapid growing landscape and snow removal services in the Wasatch Back. We have served over 95 clients and left every one of them claiming a Prime service done. When we take on a project, we want to deliver your dreams exactly the way you see them and we won't leave until you are satisfied. Prime Landscaping & Snow Removal is a fully licensed and bonded, full-service landscape and maintenance company. We specialize in all phases of commercial and residential landscapes, as well as arbor care, drainage services, landscape lighting, and more. Our mission is to create a relationship with every customer and deliver a product that is above and beyond expectation.

LANDSCAPE DESIGN • MAINTENANCE • LIGHTING • IRRIGATION • DRAINAGE
---
LANDSCAPING
Spring Creek Landscape has provided custom design/build landscaping services to homeowners, private developers, ranch properties, State and Federal projects, and vacation home properties throughout Utah for over 20 years. We specialize in native, drought tolerant environments saving the owners water, time and money.Our experienced staff can take you from design through construction and schedule an appropriate maintenance program to keep your project healthy and looking its best for years to come. We have been working in Utah with a wide variety of large residential, commercial, industrial and natural sites establishing designs that meet our clients' site specifications. We approach your project with the utmost attention to detail, using site specific plant materials and construction techniques to restore your property, pond, stream, creek or river to a natural setting after land disturbance by construction activities or natural causes. We know what it takes to get the job done.
801.860.8162 | SpringCreek801.com | Map
---
LAWN CARE
SJ Lawncare knows how to take care of your lawn. We're picky and that's a good thing! It's important to us that we're covering the things that you may never have noticed. When you hire SJ Lawncare, you can rest assured that your grounds are going to look great — guaranteed.

LAWN MOWING • BED MAINTENANCE • TREE/SHRUB CARE
SPRING | FALL CLEANUP

435.255.0013 | SJ LawnCare | Message Direct
---
LAWN MAINTENANCE
With years of experience in commercial and residential landscaping we can help you create your dream landscape! We specialize in a broad range of landscaping services and work hand-in-hand with a team of professionals and horticulturists to bring you a well-rounded approach for all of your landscape needs.We are all ready for spring/summer maintenance! Each landscape is unique and we provide each client with a personalized plan to fit the landscapes' specific needs. Our company has established a reputation to provide a quality service along with value and experience. We have worked hard at becoming the most reliable landscaping service in the Park City area.

MOWING • AERATE • FERTILIZE • WEEDING • MULCH
POWER RAKE • TREE/SHRUB CARE • SPRING/FALL CLEANUP • SPRINKLER BLOWOUTS • FIREPITS

435.647.6902 | WILDEFIRE LANDSCAPING | Message Direct
---
INSTALLS & MAINTENANCE
Hailing from Cincinnati, Ohio and completing his BA in Outdoor Recreation and Environmental Resource Management from Indiana University, Brad has lived in Park City since 2005. He has been installing and servicing sprinkler systems in the Park City area since 2006. Brad is a Licensed General Landscaping Contractor and enjoys skiing, golf, and small town community of PC. Park City Sprinkler & Landscaping has the means and experience of a big landscaping company, with the pricing and responsiveness you'd expect from a smaller business. PCSL knows how to keep your lawn lush without overusing water, always keeping our diminishing water supply in mind (and saving you on your bill). Projects are continually completed on time and on budget, with prices that are more affordable than many other sprinkler or landscape companies in town.
435.640.3453 | ParkCitySprinkler.com | Email Direct
---
LAWNCARE
At Park City Lawn Care we want you to know that we are the company for you when it comes to Lawn Care services! The dedication and hard work that goes into every Lawn Care job we do is reflected in the quality of it. Being that what we do will have an effect on people for years to come we make sure to do a "job well done". Our Lawn Care services such as Lawn care, Sprinkler Repair, Lawn Maintenance, Snow Plowing & Snow Removal have been a part of many Summit County residents for many years now! Our primary focus (aside from a job well done) is "you" the customer and Park City Lawn Care is built around that believe. Park City Lawn Care understands that our reputation depends on what our focus is and our ability to help you achieve your goals through our services on time and on budget. From field workers to office staff, we keep in mind that an honest and timely communication policy is very important so don't hesitate to contact us today and let us know your needs.
435.640.2387 | ParkCityLawnCareUT.com | Email Direct
---
TREE REMOVAL | TRIMMING
At Empire Tree Service, we understand that your home, and your family members living inside, are what matters most. Using a preemptive approach, our tree removal specialists eliminate trees and branches that are threatening your home, helping keep your home, and your family, out of harm's way.Trees have the highest value of any landscape asset, pruning and proper care will insure they thrive for years. Our Arborists are experienced pruners and approach every tree with the homeowners concerns in mind. Whether your landscape has new trees, mature trees, or a mixture of both, proper tree care is an essential part of developing and maintaining health and beauty of your homes most valuable assets. The Empire Tree Service team of fire mitigation specialists is here to help solve the challenges that our drought-prone environment can pose to a healthy yard. By implementing proactive thinning strategies, our goal is to ensure that even during our driest summers, your yard, and your home, are safely out of harms way.
435.565.0933 | EmpireTreeCo.com | Email Direct
---
PROPERTY MAINTENANCE
Shaw Property Service offers Home Care, Property Care, Landscape Management, and Landscape Maintenance Services to its clients in the Wasatch Back and Wasatch Front. Our main goal is to provide exceptional, high quality, reliable services to its customers, while maintaining the highest standards of honesty and integrity. Licensed and Insured.

• Second Home/Vacation Caretaking • Landscape Management and Maintenance Contracts •
• Residential Snow Removal • Landscape Enhancements • Planting – Plants and Trees • Flower Plantings •
• Concierge services • Irrigation • Complete yard care • Perennial garden maintenance and plantings •
• Design and install plantings • Rock, stepping stone, gravel pathways • Holiday Decorating •
801.573.6891 | ShawPropertyService.com | Email Direct
---
LANDSCAPING
Fast, friendly, and fully functional, our professional Landscaping Service is well renowned throughout the Salt Lake City, and Park City area. Our team is up for every job, managing projects with the skill and experience our clients have come to expect. No matter what season, from full landscaping and design, sprinkler installation and winter blow outs, to snow removal. We always stand behind our work, with customer satisfaction being our #1 priority. Contact us to learn more about our incredible staff and how they can help you! We do mostly any type of landscaping from fences to water falls. We do lawn maintenance and snow maintenance for Residential and Commercial places. We fix simple sprinklers to installing complete sprinkler systems. We give FREE ESTIMATES as well.
435.513.6124 | FourSeasonsLandscaping.com | Email Direct
---