2019 PARK CITY SHOWCASE OF HOMES
---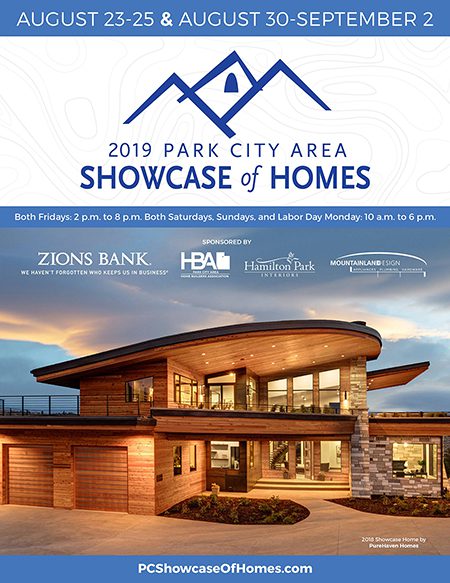 20 exquisite homes will be on display throughout the Park City area and Heber Valley, all within or in sight of the scenic mountain ranges that offer world-class skiing, hiking, biking, dining and golf.
These luxurious homes range from traditional mountain homes that use rustic logs, reclaimed wood and rock, to contemporary homes that incorporate exposed steel beams, large windows all with clean architectural lines. Their amenities include gourmet kitchens, spa-like master baths, idyllic landscapes, and theater-quality home entertainment systems showcasing the latest technologies. Every home, however, achieves a balanced harmony with its natural surroundings.
No detail has been overlooked – no inspiration has been spared. Each home has been painstakingly designed to preserve the tranquility necessary to exist in harmony with nature.
Join us for the incredible event viewing some of Park City's most prestigious homes.
435.645.9363 | PCShowcaseofHomes.com
---

---
SHOWCASE HOME MAPS
Located the following builders on the maps below: (Click on image to print PDF map)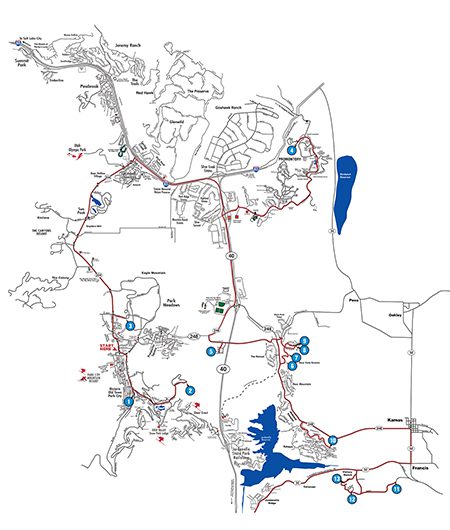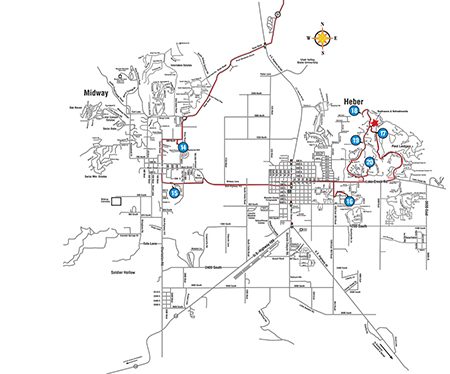 1 – Tall Pines Construction
2 – Moffat Construction, Inc
3 – Plumb Level Square
4 – Ezra Lee Design + Build
5 – Ivory Homes
6 – Altitude Design Build
7 – Alexander Design Build
8 – Alexander Design Build
9 – Tall Pines Construction
10 – Cameo Homes Inc.
11 – New Star General
12 – Big Canyon Homes Inc.
13 – Lane Myers Construction
14 – Watts Living
15 – Ivory Homes
16 – Newmark Builders
17 – PureHaven Homes
18 – Jorgenson Builders
19 – Timberidge
20 – H2 Homes

---
SHOWCASE BUILDERS
CUSTOM HOMES
Big Canyon Homes has been building custom luxury homes in Utah and Wyoming since 1990. Our clients have come from across the nation looking for the perfect location and home of their dreams. We have constructed over 10 Parade Homes in Northern Utah, Salt Lake City, and Park City. We understand how to provide a great building experience for clients in and out of state. In order to ensure quality and expert craftsmanship on every home, Big Canyon Homes only utilizes sub-contractors and vendors who we have a long-term relationship with. We also use cutting edge building technology based on today's trends. We take pride in the homes we build and want to make our clients dreams come true.
2019 Best Energy Efficient Luxury Homebuilder In the State of Utah
2017 Best of Show (Park City Showcase of Homes)
435.901.2176 | BigCanyonHomesInc.com | EMAIL DIRECT | MAP REFERENCE #12
---
BUILDER
Our custom home-building team is led by second-generation northern Utah builder Jared Rakisits, who founded Alexander Design Build in 1999 as part of his passionate pursuit to offer clients the best in mountain living. As both designer and builder, Jared is committed to working closely with you in a hands-on approach through the entire evolution of your custom home, from its initial design to final construction. Jared is poised to give every aspect of your dream residence the level of attention you expect. Our team is from the Park City area, which means we know the land and the challenges of building on it. So whether you're a long-time resident taking advantage of the precious landscape or an out-of-state mountain enthusiast in search of the ideal vacation retreat, we have the proper footing to give you a well-built home that embraces the scenic surroundings and quaint ambiance that make Park City so desirable.
435.640.6749 | AlexanderDesignBuildPC.com | EMAIL DIRECT | MAP REFERENCE #7
---
DESIGN • BUILD
ARCHITECTURE - We take pride in designing projects using the latest technology and finest materials. We ask all the right questions and guide conversations to enable us to design a home perfect for your lifestyle. We take pride in your home being on time, on budget, and exactly how you want it, all while leading you effortlessly through the process. CONSTRUCTION - We pride ourselves in our work and our schedule and if we say it is going to be done, it will be done. INTERIOR DESIGN - We have passion, endurance, and are committed to our projects. Our design team carefully considers essential components and guides you through the selections and furniture process making sure every detail is unique to you and exactly how you envisioned it. We have passion, endurance, and are committed to our projects.

We are designers. We are builders. | We are passionate. We are innovative. | We stand behind what we do.
435.640.6749 | EzraLee.com | EMAIL DIRECT | MAP REFERENCE #4
---
REVOLUTIONARY CONCEPT
Altitude Design Build has a very unique philosophy in that we take in what you want your dream home to be and take you out of the day-to-day aspects of the build. That is, we handle the architectural, the build, the interior design, the management and, should you decide to list the home, the sale of your property. Best of all, you'll spend less for all of this than what it would cost to hire a typical Park City builder alone. How do we do it? Simple. We have a team that is more concerned with building your dream home than making the almighty dollar. How's that for a concept? And, while you may think this is too good to be true and there's not a chance you could ever get the quality other Park City homebuilders can deliver, you're wrong. Not only will you receive the utmost in design and build, but your home will be as sound as the foundation it sits on.
Altitude Design Build…a revolutionary concept in custom home building.
435.901.9933 | AltitudeDesignBuild.com | EMAIL DIRECT | MAP REFERENCE #6
---
CUSTOM BUILDER
Established 1996. Plumb Level Square is capable of excuting any size project and will assitst in all aspects of renovations or home building from conceptual design down to the finished product and would be honored to help your dream home become a reality. They have an easy and seamless process that can transform your proerty from a "before" to an "after". Member of Park City Area Home Builders Association since 2004. Have been various committee member, Board of Directors, Builder Director,2nd and 1st Vice-President, & 2010 President. Have many continuing education credits.Build Green University Graduate, Certified Green Professional
435.640.2350 | PLSParkCity.com | EMAIL DIRECT | MAP REFERENCE #3
---
CONTRACTING
At the heart of New Star General Contractors' growth over the past 32 years lies a deep and abiding passion for building. This means we look at each and every step involving the design and construction process as opportunities to create something truly special. The New Star team lives and breathes hospitality resort quality, making the utmost level of craftsmanship the standard for all projects. With our Field Operations Division of approximately 50 journeymen carpenters, New Star is able to self-perform structural and architectural concrete, structural wood and light steel framing, interior, and exterior wood packages and the design and fabrication of custom millwork. In support of our growing Wood Division, New Star added a 5000 square-foot millwork and cabinetry shop in 2001 to the company's existing facilities. The Wood Division designs, fabricates and installs a wide variety of architectural millwork products, including cabinetry, wood flooring, wood doors and windows, sculpted wood wall paneling and custom furniture.
801.972.6227 | NewStarGC.com | EMAIL DIRECT | MAP REFERENCE #11
---
BUILDERS
Jorgenson Builders serves Utah as a custom home builder. We design and build Utah homes with the best quality materials and the needs of your family in mind. Planning and building your dream home shouldn't be a hassle. Jorgenson Builders helps you achieve your dreams. No matter what size, style or design you are looking for, Jorgenson Builders can build it. Jorgenson Builders offers the finest workmanship, building materials and design for your home renovation. Jorgenson Builder's renovations involve anything from a simple kitchen remodel to an entire home renovation and reconstruction. Whether you are simply looking to update your home, or you want to complete your dream home, Jorgenson builders can help you achieve the ultimate living space.
435.671.1732 | JorgensonBuilders.com | EMAIL DIRECT | MAP REFERENCE #18
---
LUXURY HOMES
Known as the industry's Platinum Standard, Watts Enterprises has been building dreams for over thirty years, focusing mainly on extraordinary luxury custom homes and communities with unparalleled customer satisfaction. Watts Enterprises is the builder of the most unique and valued communities in Utah's mountains and all along the Wasatch Front. Creating your dream home begins when you share your vision with the professionals at Watts Enterprises. From site selection to completion, we are committed to exceeding your expectations and producing a custom luxury home of the finest quality and creating the greater possible value. Our high standards for material selection and methods far exceed the ordinary industry standards. We have developed relationships with an extensive list of reliable suppliers and talented subcontractors who are well organized and timely in their execution. All the necessary time and care is put into the details of each project.
801.272.7111 | WattsLiving.com | EMAIL DIRECT | MAP REFERENCE #14
---
CUSTOM HOMES
Moffat Custom Homes staff and directors have a combined 60 years of construction experience and are third-generation builders. At Moffat Custom Homes our goal is to provide the discerning clientele with excellence in construction in every detail. At Moffat Custom Homes our dedication to integrity, excellence, professionalism and the development of high-quality projects is what sets us apart. Our staff and executive team bring unparalleled experience with vast and deep understanding of the real estate development and construction industries. Our strategic partners include industry leaders in marketing, sales and design. Moffat Custom Homes serves the greater Salt Lake and Park City areas, including Utah, Wasatch, Salt Lake, and Summit counties. Our passion is driven by the fulfillment we derive in taking care of our nationwide clients and their dreams. We take great pride in our caliber and standard of work, to ensure our clients are met with luxury living at the front door. Come home to quality.
801.769.0745 | MoffatCompany.com | EMAIL DIRECT | MAP REFERENCE #2
---